Ntsiki Dlulane is the principal and owner of one of Life Child's Partner Preschools, Ithemba Preschool in Samora Machel and her daughter Khanya runs the Montessori educational programs and also is a part-time Montessori trainer for Life Child. She has Level 5 in ECD is currently waiting on a bursary to take it further with an Education Diploma.
Ntsiki said: " Our goal is to have a high standard of basic education for children, to teach them about Christianity and make them respect each other and everyone, because of the corrupt community we live in which is full of crime and gangsterism."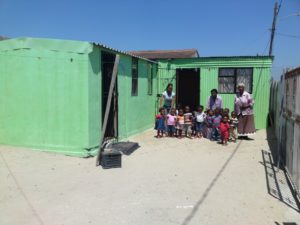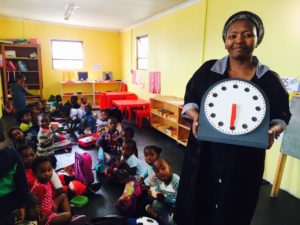 It is truly an inspirational story of how Ntsiki Dlulane started the school in Samora Machel in 2010 with 6 children. Ntsiki was living in her eldest daughter's house and running the preschool in the same house at this time. It was at this time that Life Child decided to partner with Ntisiki. After her daughter realized her mother's dedication and drive she gave her the house for the school! The preschool grew rapidly and has undergone 3 extensions and rebuilds – starting with fire-resistant zinc structure and finally, brick and mortar which is the material needed for Ithemba to be registered with Social Development – a process she will now complete. Early 2018 saw the final build which was a 2nd level ensuring enough space for 70 children which are what is accommodated at present.
"Presently Life child has made my dream of so many years to build other classes upstairs come true. As a cherry on top, our kitchen through the help of Life Child and Easy Life Kitchens has just been built. Looking at how it looks is just amazing. We also wish we could improve on the type of meals we offer to our children," says Ntsiki.